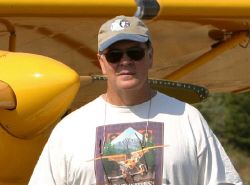 CubWorks owner, Ralph Rogers is a retired educator, who operates a biological consulting firm. As a wildlife biologist, Ralph has hundreds of hours in the back and front seat of cubs..."counting critters" from Greenland to Patagonia. Ralph and Melissa's two children are also both professional wildlife biologists in Arizona having dropped "
not far from the tree
". As an avid life-long falconer, Ralph has always been intrigued by flight and especially low and slow cub work. After a career with PA-18 and PA-12's, Ralph bought one of the first sport-cubs produced by CubCrafters and has had hundreds of hours of adventure in wild places with that aircraft. His newest air "mistress" is a yellow/silver CarbonCubSS...the adventure continues in this newest aircraft.
While he bought the sport cub simply because he thought CubCrafters had a better idea, at 64 years old, Ralph stands firmly in the middle of the demographic segment looking seriously at LSA. Ralph currently has his medical and doesn't know of any reason that can't continue, but is getting fatigued by the angst and expense which accompanies the every-other-year medical exam and the concept that something so important to him could be gone with little consultation.